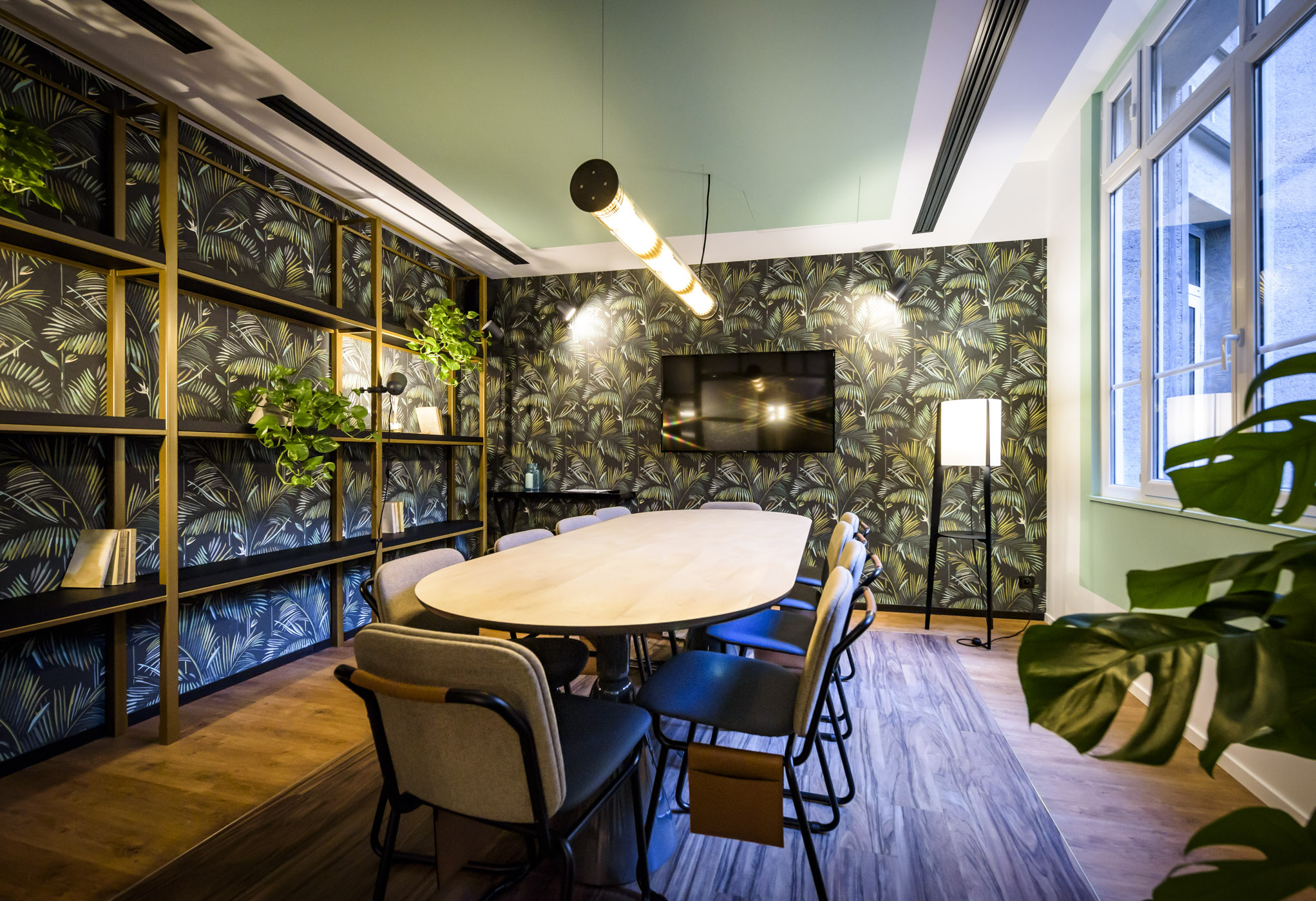 Wellio Paris Montmartre meeting room rentals
At Wellio Paris Montmartre, you can rent a meeting room to organise your conferences or briefings, meet a partner or client, satisfy any other need that requires a private space. Learn more about our working area for meeting room rentals, our pricing, and the points of interest close to Paris Montmartre.
Wellio Paris Montmartre meeting room rentals
Our Montmartre Paris space is located at 114 rue Marcadet. Designed with Saguez & Partners, it helps to stimulate creativity in your employees. A sporty and playful design makes the space more lively, representing the values of teamwork.
To expand your network, you can meet new people in the communal areas such as the entrance hall, the refreshment area or the booths.
A motivating work environment, where the usual constraints of daily life disappear to make room for professional efficiency.
Meeting room pricing
The following options are available for renting a meeting room :
For 5 people: BOX 10 is available for €50 excl. tax per hour or €425 excl. tax per day.
For 6 people: BOX 12 is available for €60 excl. tax per hour or €490 excl. tax per day.
For 7 people: GREEN 1 or 2 is available for €100 excl. tax per hour or €810 excl. tax per day.
For 13 people: GREEN 1 and 2 are available for €200 excl. tax per hour or €1,535 excl. tax per day.
This rate also gives you a range of fully configurable Plug & Play IT equipment and a caring team for you and your employees. You can also take advantage of the many informal spaces available, such as the bar, lounge, rooftop or gaming area.
You can request our additional services and have access to:Our address book consisting of trainers, design thinking experts and lecturers;
Our selection of caterers for your lunches (with the option of attending the Meilleur Ouvrier de France cooking show, an ideal outing for your team).
Wellio Paris Montmartre: a choice location
At the heart of rue Marcadet Paris 18, our Wellio Paris Montmartre site is in a premium location. Situated at the top of Butte Montmartre, our Paris 18 coworking space is the starting point for exciting excursions. Film lovers, your eyes do not deceive you: you are in the neighbourhood of Amélie Poulain and her famous Café des 2 Moulins, located at 15 rue Lepic. For a timeless stroll, visit the Montmartre des artistes in rue de l'Abreuvoir at the Maison Rose for a coffee break or for lunch. To finish, be sure to see the Montmartre village during the harvest festival.
Read more
With Wellio, it's included
Plug & Play

comprehensive IT equipment and custom configuration

A caring team

with a dedicated Well'manager

Informal spaces available

bar, lounge, rooftop, gaming zone, alcove…
With Wellio, it's (also) possible
Our selection of caterers

from a gourmet break to the cooking show of a "Meilleur Ouvrier de France"

Our address book

of coaches, experts in design thinking, keynote speakers…
Contact us
La Buvette

La Buvette

Le Vestiaire

Informal space

Informal space
La Barbylone
Brasserie Barbès
All Good Things Paris
La Table d'Eugène
Au Bon Coin
Neoness
Métro 12 – Jules Joffrin
Métro 12 – Marcadet-Poissonniers
Métro 4 – Marcadet-Poissonniers