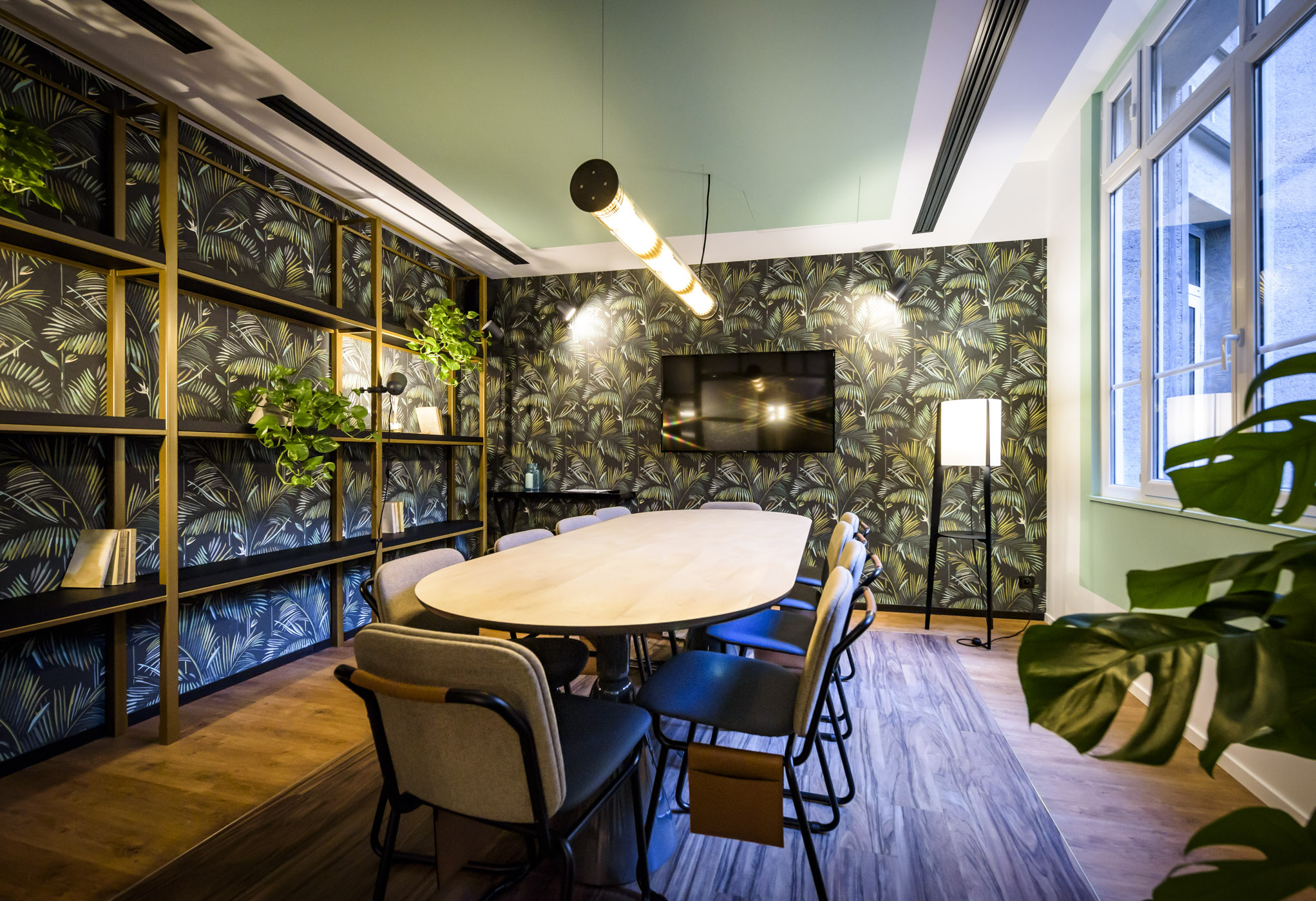 Wellio Paris Gare de Lyon meeting rooms
Are you looking for a meeting room for your teams? Located in the 12th arrondissement at 15 rue Traversière, our Wellio Paris Gare de Lyon spot offers meeting rooms for hire that can accommodate up to 11 people.
Wellio Paris Gare de Lyon meeting rooms
In a club or botanical atmosphere designed by Colliers international, you are sitting at the crossroads between the art world and the plant world.
We have many meeting rooms on offer with a club or plant mural theme, depending on your desires.
Services included in your private space :State-of-the-art secure IT equipment offering instant connection;
An attentive team is ready to step in at any time, along with a dedicated Well'Manager ;
Informal spaces (rooftop, bar, lounge, gaming area, etc.) for when you need to relax.
You also have access to our panel of caterers and our address book of services. Everything is designed to help you stay focused on the essentials during your time in our collaborative space in Paris.
We also offer event spaces for up to 100 people to stimulate your creativity during seminars or workshops.
Meeting room pricing
Meeting rooms can be booked online on the Wellio website. Hare are the rates for professional events:
4 people: €36 excl. tax per hour or €270 excl. tax for the whole day.
9 people: €72 excl. tax per hour or €480 excl. tax for the whole day.
11 people: €88 excl. tax per hour or €660 excl. tax for the whole day.
Wellio Paris Gare de Lyon: a peaceful and dynamic district
When you book a meeting room in the Gare de Lyon district of Paris, you are choosing a district that is both chic and down-to-earth. In the 12th arrondissement, there are two must-sees among all the discoveries that await you :
La rue Crémieux : The location of the ancient Roman arenas, this picturesque street is a delightful stroll for visitors to the capital. With its peaceful and jovial atmosphere, the bright colours of the houses will enhance your visit to Paris Gare de Lyon;
La Coulée Verte and the Viaduc des Arts : This tree-lined walkway, nestled alongside an old railway line, lets you discover Paris 12 in the best way possible. All in all, 4 km of resplendent greenery in the heart of the capital! Adjacent to the Gare de Lyon, the Viaduc des Arts is the starting point for the Coulée Verte. Starting at Bastille, this art and craft space surrounded by green space gives new life to its visitors: a bird's-eye view of the unusual façades of the buildings along avenue Daumesnil.
Read more
With Wellio, it's included
Plug & Play

comprehensive IT equipment and custom configuration

A caring team

with a dedicated Well'manager

Informal spaces available

bar, lounge, rooftop, gaming zone, alcove…
With Wellio, it's (also) possible
Our selection of caterers

from a gourmet break to the cooking show of a "Meilleur Ouvrier de France"

Our address book

of coaches, experts in design thinking, keynote speakers…
Contact us
Patio

Hall

Paillote Hellio

Rooftop

Paillote Club

Paillote Plaggio